What happened to 18?
18 died, that's what.
From the VB:
I think being an adult means you gotta give up on your dreams.

I see it all the time in these adults, who used to want to do something, but now they've been working at some job that sucks for 30 years.

If you can avoid doing that, you can be a kid forever, and that's probably a more fun way to live.
I suppose I shouldn't complain about being busy.
…but I'm frickin' busy all the time!
Seems like I have a lot to do, and am doing a lot, that's all I'm saying.
It's not all bad. Yesterday was kind of a kick in the pants, as we're now about exactly one month away from this year's 4th of July worldOne festival. By this time last year, I already had a good draft, if not a finished draft, of that year's festival promo.
That thing was a piece of work. Mostly because of revisions from interested parties. It is what it is, though. I think it turned out pretty good.
But anyway, this year, I've been working. I haven't had time to do my usual thing, and I haven't even had time to realize that I'm already this late on it! No matter though, I'm not the only one. I should hopefully have something to post soon.
Oh by the way, just 'cause I'm lagging does not mean that the festival wont be excellent as always. Come check it out. More info at www.worldOneradio.org
Despite the million things I still have to do, I did get to have some fun yesterday. After the worldOne volunteer meeting, I made it to San Francisco to watch Moonrise Kingdom with my parents, and two of their friends. Now there's another movie I need to review…But in short it was wonderful. Just the movie I wanted to see. If anyone wants to go, I'll gladly watch it again when it opens wider in the coming weeks.
After the movie, I was surprised to learn that my dad had never been to Japantown in his life. I find it hard to believe that he's never been to Japantown in the 40 years he's lived here. Well anyway, he got to experience a small taste of it.
As we crossed the bridge in Japantown from one building to the other, it smelled of cleaning products. My dad's friend Al, who came with us, pointed out that "you don't want to eat anywhere you can smell cleaning products." He said this right as we passed one of my least favorite restaurants in the world. A place called "On The Bridge." Sure, they look friendly with their little diner on the bridge over Webster street, and it's inviting to otaku with the wall scrolls and anime, but the food is fucking disgusting.
[caption id="attachment_455" align="aligncenter" width="300" caption="What the fuck is this shit"]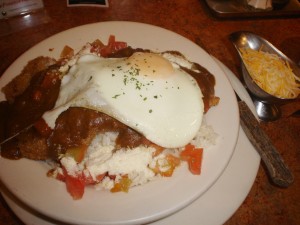 [/caption]
Even if that tastes amazing, I would never be able to get past the sloppy mess that exists on that plate. I've noticed a lot of Asian food is like that. Just throw a mess of shit in a bowl, boil it, and shovel it in your mouth making as much noise as you can. Not what I consider appetizing.
[flickr]http://www.flickr.com/photos/budgetbougie/6879220269/[/flickr]
It's like they just love to take something that's good and ruin it by piling shit on it.
Anyways, after eating SOMEWHERE ELSE, we went to Great American Music Hall for Ernest Ranglin's 80th birthday. I was not looking forward to this, I'm not too fond of the venue. The chairs are uncomfortable, the food is over priced, and the sight lines are terrible. Somehow, we got a decent spot to watch the stage from, but nothing could be done about the chairs. I was highly entertained by the music, though, particularly the supporting band Vinyl. The jazz/funk/afrobeat/reggae/ska mix with very few lyrics was exactly the type of music I like. It's just a shame the audience had to go and ruin it. People didn't know when to stop talking. There was a lot of smoking as well.
But the good far outweighed the bad.
I probably had more to say, but it's almost 1 and I gotta be up and at them in about 5 hours. So goodnight everybody.
I have to at least keep writing something, anything, once a week. I can't give up.
"You have to give up."
Perhaps that's true…to really start over and do something incredible I would have to give everything up, hit bottom, start over. What's that line? Only after disaster can we be resurrected? It's only after we've lost everything that we're free to do anything.
Well maybe I'm not quite ready to be resurrected. But I have to keep trying, at least once a week.
Work has become very exhausting, but maybe I just haven't quite settled into it yet. I got the sense, last Friday, that I could get used to the job. I also start to feel like Randall from Clerks. "This job would be great if it weren't for the fucking customers," he said, and he was right. My mom has a similar job to mine, only she mostly works on stuff without customers. She's not terribly good at it because she doesn't type very fast, which is ironic. My mom would be great at working one customer at a time, like I have to do, and I'd probably be a lot better at her job, doing a big bundle of apps at once. We should switch.
I dunno though, this job wouldn't be so bad if I didn't have to drive 80 miles a day through rush hour traffic. Word is our governor, Jerry Brown, along with the legislature, are aiming to cut ~900 million from the state's budget by closing state services one day a week. Hear that folks? You think the line is long now? Wait 'til they furlough again. Personally, I probably wouldn't mind the change. I wouldn't mind working an extra hour each day, getting an extra day off each week, driving 3 hours less in the process, but I'm already not making very much. With the furlough, I'll be making, like, 15% less, I hear. That's gonna suck. It already sucks…
I dunno, though. I'll cross that bridge when I get there…
Since I haven't been keeping up with my daily posts, what have I been neglecting to chime in on? I still have old reviews to write, maybe I can try to tie those reviews in with their home video release. We'll see. We're in the thick of a new anime season, and there are at least 2 shows I'm into. I still haven't worked out how I'm going to write about them…but I should. If only as a learning experience for my self. I mean, why do I like these shows. Why do I like what I like? Why am I who I am?
That's a post for another day though. Time to wrap this up…I gotta go to work tomorrow.
See you next week, if not sooner.
What is this, a Sunday blog? It wasn't supposed to be this way!
I'm not going to dwell on it, though, just gotta keep posting when I can.
I haven't learned much, mostly because it takes half the class twice as long to keep up, but I'm getting through it. It can get a little aggravating, or more often boring.
Writing these posts should really be a morning thing, I'm just out of it at the end of the day. I can't believe I used to do all of my writing overnight. I can't even imagine staying up all night anymore. It's sad, in a way.
I sometimes get these panic moments where I wonder if I should be doing this job in general. What's that line from Fight Club? "Advertising has us chasing cars and clothes, working jobs we hate so we can buy shit we don't need." Not that I should really be listening that hard to Tyler Durden.
I get the sense that this kind of job would be a lot more bearable, more acceptable, if I had a family of my own, that is that I somehow joined or created without the family that came before me. I notice all these other people I work with, they have children, husbands or wives, boyfriends or girlfriends. I see these people and I try to figure out how I fit in, if I do at all. It's a struggle.
Finding the motivation for living is a tricky thing, and I'm trying. I can't get over this sense of dread that I'll never really figure it out, though. I keep going, but why? I don't know.
I try to picture myself in these scenarios with other people, but it always looks fake and unnatural. I always feel like I shouldn't be so lonely, but when I think about it I almost have to consider myself lucky that I am. Imagine how fucked up my life would be if I actually had to care about other people. Could I even do it? How long before I get totally bored and have to pretend I'm interested in this other person? I see that all the time too, so I can't really feel that bad about myself.
Then again, it's only after you've lost everything that you're free to do anything.
10 weeks!
But it's really been more like 8.
I didn't bring my laptop with me the last two weeks, mostly because of a lack of sleep and a case of sickness.
I just didn't feel like working, you know? I certainly didn't feel like leaving 2 hours early to write this blog. I had a hard enough time getting out the door on time for my actual job.
It's a bad habit though, this not writing thing.
Since I haven't had my computer, and I haven't been writing, why have I spent any money at Starbucks? It's just stupid, now that I think about it. Here's hoping that next year, I can write off all that coffee on my taxes.
Speaking of, I just finished last year's taxes, and I should get $34 back! Ugh.
It is pretty expensive though, this coffee habit. It's good to have some place to work and so on, but is it worth the money I don't have? Probably not.
But if I don't go to Starbucks, what will happen to this blog?
I guess I'll keep going until I run out of cash on my Starbucks card.
So what's to look forward to?
I feel like I still owe you a review for Casa De Mi Padre and John Carter. I'll get to it. Also, last week, in spite of my sickness, I went and saw Lockout at an advance screening. I wrote about Ghost Rider, I can write about Lockout.
It's the beginning of a new season for many TV shows, specifically anime. There's at least a few shows I want to watch, and I should find the time to talk about them here.  Sometime this week I'll come up with a post of what I'm looking forward to, at least.
Also, in the last two weeks, Major League Baseball has started back up. I'm not sure if there's much for me to say about it yet, but maybe I can come up with something.
Anyway, it's already pretty late, and this post has too many short paragraphs. I think it's time for bed. Goodnight everybody.
Post with 1 note
Fading fast from memory, but my dream last night came out of nowhere.
I was in some place like France, at some kind of cavern/Victorian era natural history museum, with offices next to the Louvre or something. And I was there doing some type of da Vinci code bullshit with this random spy woman I've never met, on contract by Death itself. Had to run through this cave and trip alarms and pick up some kind of deed. Get split up from the chick, end up on the street where Death is waiting in a car, sitting next to him is whatever the fuck this thing in panel 7 is.
Deliver the deed, death speeds off, and that's the end.
What could it mean?
Anyway, here's the sleep chart, maybe somebody can put 2 and 2 together.
[caption id="attachment_404" align="aligncenter" width="200" caption="Sleep report for April 1-2, 2012"]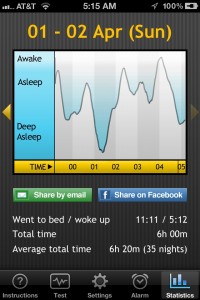 [/caption]
Oh right it's Sunday.
April 1st at that.
It's a little too late in the day for me to be coming up with April Fools jokes, but what I do have is this year's edition of worldOne on Radio EdSoft Films. I think it came out pretty good. Have a listen below (pre-announce version, all music in other words, not ready for terrestrial broadcast but perfect for an internet player).
Last week was pretty packed, now that I think about it. I got my first full month's paycheck, I went to a wonderful symphony, I posted a nearly 2000 word review of two movies, got some stuff done at the radio station, and I made two radio shows.
Still not satisfied, of course, got a ways to go. I still need to review two more movies, and record the terrestrial versions of these radio shows, with a lot of other KECG related stuff to follow. I missed out on a chance to go to a Warriors game with family. I didn't get to go swimming, now for two weeks in a row. I had a lazy weekend, doing practically nothing.
But there's always stuff to look forward to. Baseball returns to the bay area TOMORROW, and I'm going. Just had a nightmare realization that I have no idea how I'm going to park near PacBell Park…
While I'm sharing radio shows, I hope you will listen to this other show too, heavily influenced by the Zelda symphony from last week. I'm really proud of both of the radio edsoft films this week. Please give them a listen. When I get around to recording the announcements, I'll give them their own posts. Consider this a preview.
So I've noticed that I appear to only dream when I get less sleep than I probably need.
Looking at the chart though, doesn't seem like I missed all that much…
[caption id="" align="aligncenter" width="448" caption="Sleep report for March 29-30, 2012"]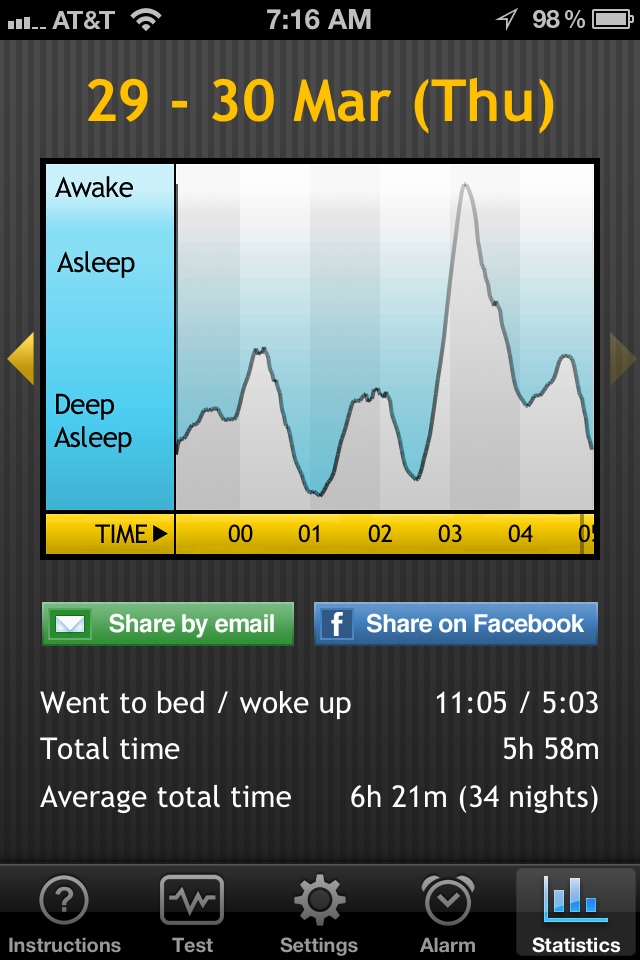 [/caption]
I neglect to mention, though, that I didn't really get out of bed until closer to 6. I was sort of half asleep, checking the tweets. Pushing it as far as I can. Lucky for me, the traffic this morning was kind of a breeze, and I made it to San Mateo at about the same time I usually do, even though I left 30 minutes late. It's probably gonna suck tonight…
I did have a dream. I'm not sure what to make of it, especially as the details fade, but here goes. I was walking down a street, and I found myself in some kind of health clinic. It kind of had a 1970s public institution vibe. Kind of what I imagine a methadone clinic to look like. Not exactly a great place. I go in there, and there's some kind of gathering of people. Regular, working-class people. Not really attractive people. They're all just sitting there, filling this makeshift public forum/waiting room type place. It feels like they're waiting for some kind of union meeting to start, but nobody who's supposed to talk has shown up yet. All these people waiting make me forget what I went in there for. For some reason, I take out an iPad, of all things, and start filming the defeated looking faces of this group. After making a 360 degree pan with the iPad, I turn around and leave. As I'm about to exit the building, an asian woman in her 30s comes up and asks me where the DMV is.
And that's the dream. It's kinda weird, no?
So anyway, later on I'm going to upload a new radio show to mixcloud, and share it here. Hopefully sometime tonight I'll actually upload it to the KECG server and it'll broadcast over the air this weekend.
Remember when I used to talk about my sleep? Well that's back.
[caption id="attachment_372" align="aligncenter" width="640" caption="Sleep report for March 27-28, 2012"]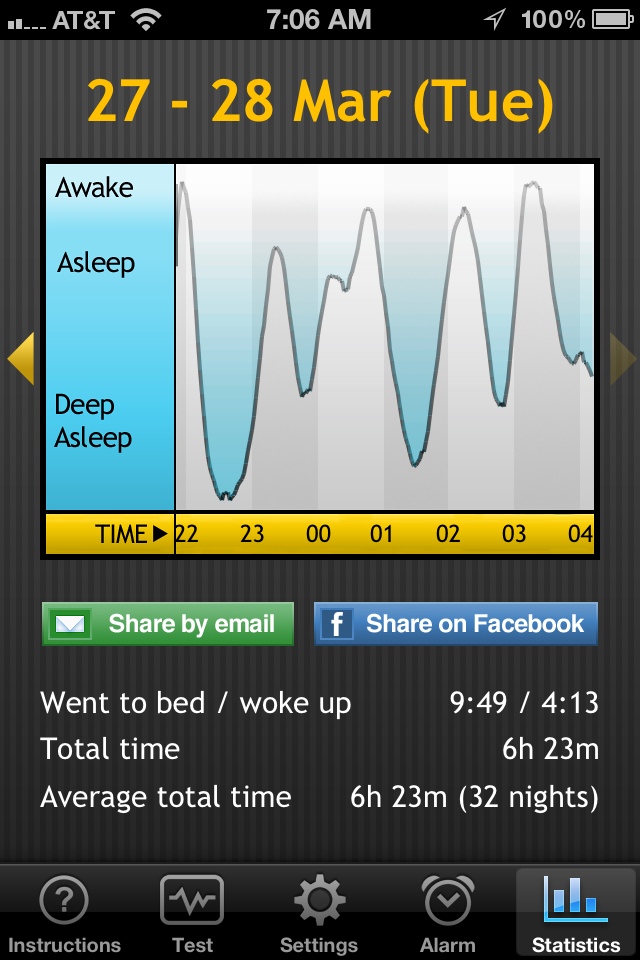 [/caption]
So I've been averaging less than 7 hours of sleep every night…maybe that's not a big deal.
I'm pretty sure I did dream last night, but nothing memorable. The other night I was embarrassed to realize I was dreaming about work. That's the last thing I want to do. I give those people enough of my time. Gives me an idea, though, for when I finally get sent to the official training—I'll blog about it. If anyone ever wondered what it's like to work for the DMV, I'll let you know, but who knows when they'll actually send me to training…
As for last night, my sleep was cut a little bit short for two reasons. Both relate to me being a little excited.
Firstly, at ~3 am PST, the Seattle Mariners and the Oakland Athletics officially started the 2012 season of Major League Baseball. I didn't quite make it for the opening pitch, but I did wake up early enough to catch the 6-12th innings. I almost wish I didn't, though. It was a bit of a disappointing game. Stellar performances from Brandon McCarthy and King Felix, but the A's couldn't produce runs when they needed to, and were defeated in the 12th inning. Ichiro had a great night. Or morning. Or however you want to look at it. They do it again tomorrow, this time starting an hour earlier (closer to 2 am). Not sure if I'll wake up early enough for that one, however, because tonight…
The Legend of Zelda 25th Anniversary concert comes to San Francisco! I've been looking forward to this since they first announced it, and the day is finally here. I brought my camera, hoping to make a video review to share on this website (some day). I also plan to make a new radio show in the next two days based on music from The Legend of Zelda.
And I haven't forgotten the movie reviews. The Lorax and Metropolis are almost done, I would have posted yesterday but I felt like adding pictures to break up the text. Just gotta do that and those'll be ready. Then on to John Carter and Casa de mi Padre.
So a lot on my plate today and the rest of the week. Let's see how many of these goals I can tackle fully in this compressed time/sleep deprived week.
So is that it? 4 weeks of committed posting and I've given up already?
No! I can't succumb to that. I must persist.
I think daylight savings time is the major reason I've been flaking the last 2 weeks. Here's to hoping I can go back to the way it was before this week.
I do have a lot to cover now. In addition to finishing the KECG post, I have now seen 4 movies I haven't written about yet. For reference, those are Metropolis, Casa de mi Padre, John Carter, and now The Lorax. I have an idea about how to cover those films. Let's see if I can pull everything off next week.
Another thing that's happening is I've got to process more stuff for Tom in addition to working full time. Will this slow my contributions to my blog? Or will it actually encourage me to write more? We'll find out soon.